Profitec Pro 600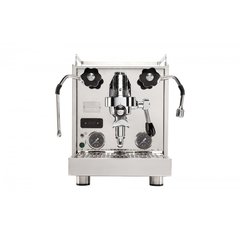 click on image for larger picture
$ 2.368
coupon
please enter it at checkout
VAT included, plus shipping
VAT-FREE FOR ALL COUNTRIES OUTSIDE the EU and UK: Just insert the number 123456789 into the company Vat field in the order form. You will see your VAT-FREE amount (-22%) at the checkout. IMPORTANT: Although you will save the Italian VAT when ordering, you will be required to pay local taxes and duties at delivery in your country. Please check your local taxes before placing your order.
POWER PLUGS: all shipments to the UK and Ireland with plug adapter (BEAB approved), all other international shipments with standard European plug (you just need to buy local adapter plug).
The Profitec Pro 600 is a dual boiler espresso machine with an E61 group head, quiet vibratory pump, and a built-in PID and shot timer. It runs both on an internal water reservoir and plugged into the water line. At its price point, it is one of the most complete coffee machines in the market.
WHAT'S INCLUDED
Black handle Profitec single-spouted portafilter
Black handle Profitec double-spouted portafilter
Single basket
Double basket
Grouphead brush
Backflush blank
4 hole steam tip
Water test strips
DETAILS
Manufactured in Milan, Italy
Dual-boiler
E61 brew-group
Boiler and pump pressure gauges
Built-in PID temperature control and shot timer
Vibratory pump
Wear-free rotary valves
No-burn insulated steam and hot water wands
Removeable cup tray
Brew boiler: Stainless steel, .75L
Steam boiler: Stainless steel, 1L (capable of 2 bar steam pressure)
Reservoir: 3L with low water sensor, BPA Free
- MANUFCTURER: Profitec
- MODEL: PRO 600
- MATERIAL: Stainless Steel, black plastic
- AVAILABLE COLORS: Polished steel (black plastic side panel inserts)
- WIDTH: 30.5 cm
- PROFONDITÁ: 55.5 cm
- HEIGHT: 39.5 mm
- WEIGHT (net): 24 kg
- WATTS: 1000 W
- PID: Yes
- PRESSURE PROFILE: No
- PRE-INFUSION: Yes
- PORTAFILTER SIZE: 58 mm
- INCLUDED PORTAFILTERS: 2 (single + double )
- AVAILABLE PORTAFILTERS: 3 (single + double + bottomless)
- WATER SOURCES: Internal reservoir / plumbed in
- RESERVOIR SIZE: 2.8 L
- BOILER CONFIGURATION: Dual Boiler
- NUMBER OF BOILERS: 2
- BREW BOILER CAPACITY: 0.75 L
- STEAM BOILER CAPACITY: 1.0 L
- BREW BOILER MATERIAL: Stainless Steel
- STEAM BOILER MATERIAL: Stainless Steel
- PUMP TYPE: Vibration Pump
- CUP WARMER: Yes (passively heated)

you may also be interested in following products: