Quick Mill Orione 03000L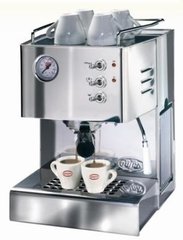 click on image for larger picture
$ 737
coupon
please enter it at checkout
VAT included, plus shipping
VAT-FREE FOR ALL COUNTRIES OUTSIDE the EU and UK: Just insert the number 123456789 into the company Vat field in the order form. You will see your VAT-FREE amount (-22%) at the checkout. IMPORTANT: Although you will save the Italian VAT when ordering, you will be required to pay local taxes and duties at delivery in your country. Please check your local taxes before placing your order.
POWER PLUGS: all shipments to the UK and Ireland with plug adapter (BEAB approved), all other international shipments with standard European plug (you just need to buy local adapter plug).
QuickMill 03000L Orione
with lever switches
- Coffee Machine with rapid and unlimited steam Production
Description:
Espresso machine with the exclusive stainless steel filter head "Quick Mill" with fixed tightening and sealing through O-ring. Exclusive metal thermo-block with double thermostatic control and safety thermo-fuse. Unlimited steam and hot water withdrawal. Steam nozzle complete with aerator for heating beverages and the reparation of "Cappuccino". Bodywork completely made of polished stainless steel. Manometer to control bar during coffee.
Technical Specifications:
- Dimensions: 25x38x25 cm
- Weight: 9 kg
- Power supply: 230V / 50 Hz or 115V/ 60 Hz - 1080W
- Body: polished stainless steel