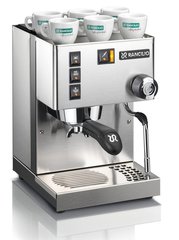 click on image for larger picture
$ 564,41


list price $ 630,39 (-10%)
if you have a
coupon
please enter it at checkout
SPECIAL! check ship cost? - VAT incl.
22% OFF IF VAT REGISTERED IN THE EU, VAT FREE TO ALL NON-EU COUNTRIES - (more info) NET PRICES, YOU PAY WHAT YOU SEE - NO ADDITIONAL FEE OR TAX
Rancilio Silvia NEW 2017 model V5/E is a semi-automatic machine. It offers excellent service to your guests and high quality beverages, qualities for which, since 1927, the Rancilio company has been known and appreciated around the world. Iron supporting frame. Body and control panel in satin stainless steel. Equipment: 1 filter holder, 1-cup filter, 2-cup filter, measuring spoon, coffee press.

- Power: 1100 W.
- Pump pressure Max.: 17 Bars
- Dimensions: (Width x Depth x Height) in mm. 350x250x400 - 14"x10"x16"
- Weight: 14 Kg. - 26 pounds

New Model with new Stronger and Improved Brew Head, new Drip Tray Design

Silvia Home Line are already available in the new POD ADAPTABLE version. These machines are fitted for the use of the pod adaptor kit, sold separately as a spare part. The coffee pod system is easy to use and enables one to make a good espresso coffee every time. You are free to choose several coffee blends preserving the original aromas and flavours of the freshly ground coffee.