Velma Pastaline - Giotto Mini Dough Sheeter 110V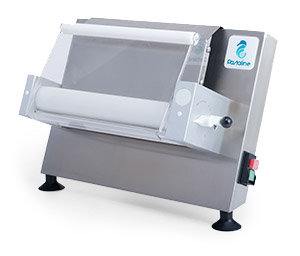 click on image for larger picture
$ 897,25
VAT included
$ 735,45
VAT free

Delivery time 2 weeks
VAT-FREE delivery to all 110 Volt countries. Just insert 123456789 into the Vat number field in order form. You will see the Vat-free amount (-22%) at checkout before you confirm your order. You will be required to pay local taxes and duties at delivery in your country. Please check your local taxes before placing your order.
POWER PLUGS: all shipments with USA 110 volt plug.
WORLDWIDE WARRANTY (2 years): Best of Italy covers all costs, including transport.
Pizzerias and pastry shops have been using Velma Pastaline equipment for over 20 years. Made from stainless steel with traditional Italian craftsmanship.
The Velma Pastaline product range: dough sheeters, dough sheeters, rounders, the product range impresses with its ease of use, simple construction, low costs, dimensions and, of course, quality ...
The Giotto dough sheeters are designed for pizza, bread, cakes and flatbread, while Mini & Maxi Sfogly are particularly suitable for short pastry and puff pastry.
VELMA DELIVERIES TO USA, CANADA AND JAPAN

Dough Sheeter

All shipments to USA/Canada/Japan with 110 Volt and USA power plug.
The Giotto Mini Dough Sheeter with one pair of rollers for small-scale production applications enables the user to roll out either round or rectangular pizza bases up to 30 cm in diameter or in width.
The Giotto range of Dough Sheeters are designed to process dough for pizzas, breads, flatbreads, "focaccia" bread, cakes, samoosas, etc. Manufactured entirely from stainless steel, with a detailed framework, these machines are equipped with foodstuff-grade resin rollers that comply with the most stringent workplace health and safety regulations.
The Giotto range of Dough Sheeters are particularly appreciated for their reliability and smaller size, which makes them ideal for use in workshops with limited space. The Giotto range of Dough Sheeters enable the user to process the dough at ambient temperature without altering the organoleptic characteristics and the quality of the end-product. The diameter of the pizza base or the width of the "focaccia" bread depends on the length of the lower pair of rollers.
All the dual-roller Giotto Dough Sheeter models are designed to be used with the electric start pedal. Each pair of rollers has its own lever for setting the desired dough thickness.
Technical data:
- 230/240 v 50hz 0,37 Kw - 110 Volt
- Dimension 33x42x29 cm (HxLx D)
- Weight 21 kg

you may also be interested in following products: