Elektra Micro Casa Leva Chrome & Brass S1CO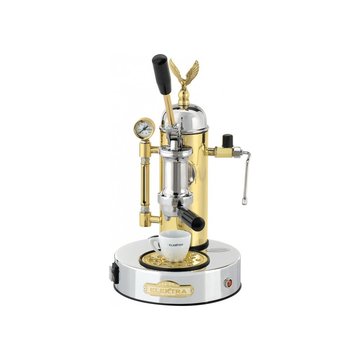 click on image for larger picture

¤ 1.690,00
VAT included
¤ 1.385,25
VAT free

Currently not available
The Micro Casa lever coffee machine has been offered by Elektra for many years. The machine has a special design and lever operation that follows the oldest tradition of espresso coffee machines. It is available in three versions: coppery brass, chrome and brass and chrome. In addition, Elektra offers professional grinders in different colors and wooden bases with drawers for the carpet beater to complete the line.

Technical specifications:
Groups: 1
Boiler capacity: 1.8 l
Voltage: 230V
Frequency: 60Hz
Power: 800W
Height: 45/49 cm
Width: 26cm
Depth: 26cm
Weight: 10kg
The Micro Casa Leva from Elektra is a beautifully designed coffee maker that will impress everyone who sees it. It is made from high quality materials and has a classic Italian design that is both elegant and functional.

One of the outstanding features of the Micro Casa Leva is its lever mechanism. This lever allows you to manually control the pressure of the water used to brew your coffee. This gives you full control over the brewing process and allows you to create a cup of coffee that is tailored exactly to your preferences.

The Micro Casa Leva also has a large water tank that allows you to brew multiple cups of coffee without having to refill it. This is perfect for anyone who enjoys entertaining or has a large family.

Another great feature of the Micro Casa Leva is its built-in steam wand. With this wand you can froth milk and prepare delicious cappuccinos and lattes. So you can enjoy café-quality coffee in the comfort of your own home.

Cleaning the Micro Casa Leva is also child's play. Simply wipe the unit with a damp cloth and clean the group head and steam nozzle after each use. This way, your coffee maker will stay in top condition and continue to produce great-tasting coffee for years to come.

In summary, the Micro Casa Leva from Elektra is a coffee machine worth investing in. Its classic design, manual lever control, large water tank and built-in steam wand make it an excellent choice for coffee lovers looking for a quality coffee maker that they can use to brew cafe-quality coffee at home. So if you are looking for a coffee maker that will take your coffee enjoyment to the next level, the Micro Casa Leva from Elektra is definitely worth considering.