Elektra Micro Casa Semiautomatica Copper & Brass SX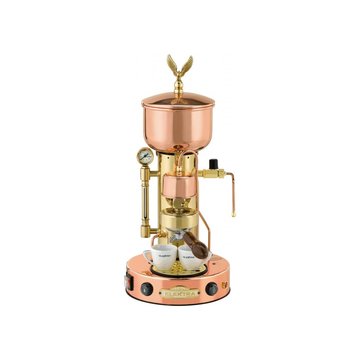 click on image for larger picture
¤ 1.690,00
VAT included
¤ 1.385,25
VAT free

Currently not available
Leader in the design, production and distribution of high quality Espresso coffee machines. Elektra is committed to implementing a responsible business strategy that respects people and the environment.
Elektra coffee machines are special items. Their refined style with the charm of the past enchants the eye and creates an elegant ambience. The polished metal reflects a quality that is second to none.
The Micro Casa Semiautomatica is true professional espresso coffee machine that has the advantage of enclosing the current construction technology in ancient forms, to meet the practical needs of those who use it.
The vaporizer generates inexhaustible steam for the frothiest of cappuccinos, for tea and infusions.
Technical specifications:
Groups: 1
Boiler capacity: 2.0 l
Voltage: 230V
Frequency: 60Hz
Power: 800W
Height: 58 cm
Width: 26 cm
Depth: 26 cm
Weight: 11 kg