'Micro Casa Semiautomatica' Copper & Brass SX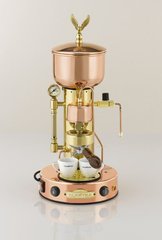 click on image for larger picture
¤ 1.479,00
coupon
please enter it at checkout
22% OFF IF VAT REGISTERED IN THE EU, VAT FREE TO ALL NON-EU COUNTRIES - (more info) NET PRICES, YOU PAY WHAT YOU SEE - NO ADDITIONAL FEE OR TAX
ELEKTRA Micro Casa Semiautomatica SX is more than just an Espresso machine, it is also a design object.

Elektra coffee makers for the home are special objects. Their delicate retro style attracts the gaze and bestows elegance on the surroundings. The gleaming metals are the mirrors of unrivalled quality.
The infinite pleasure of relaxing

In moments of relaxing, an espresso coffee is a small delicious rite that requires certain precise rules to be observed.

Elektra espresso coffee machines are made by those who know these rules well and have been supplying bars for years with the best espresso coffee making machines.

Designed and made with meticulous care, they guarantee the pleasure given by a professional coffee, even without the experience of a barman.
Microcasa Semi Automatica - Technical Specifications
| | | | | | | | | |
| --- | --- | --- | --- | --- | --- | --- | --- | --- |
| article | boiler | voltage | hertz | watt | height | width | depths | weight |
| SX | capacity liters | volt | hz | w | cm-inches | cm-inches | cm-inches | kg-pounds |
| SX | | 110-230 | 60-50/60 | 800 | 58-23 | 26-10 | 26-10 | 11-24.2 |
| SXC | 2 | 110-230 | 60-50/60 | 800 | 58-23 | 26-10 | 26-10 | 11-24.2 |
| SXCD | 2 | 110-230 | 60-50/60 | 800 | 58-20 | 26-10 | 26-10 | 11-24.2 |