Elektra Micro Casa Semiautomatica Chrome SXC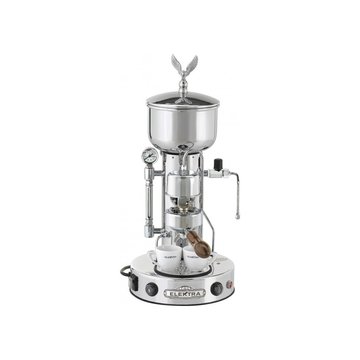 click on image for larger picture

¤ 2.290,00
VAT included
¤ 1.877,05
VAT free

Currently not available
The Elektra Micro Casa Semiautomatic espresso coffee machine uses modern construction technology in traditional shapes. It was designed to meet users' convenience needs. The vaporizer produces an infinite amount of steam to create frothy cappuccinos, teas and infusions. The machine is equipped with a professional brass continuous brewing unit and a brass boiler with heat exchanger.
Technical specifications:
Groups: 1
Boiler capacity: 2.0 l
Voltage: 230V
Frequency: 60Hz
Power: 800W
Height: 58 cm
Width: 26 cm
Depth: 26 cm
Weight: 11 kg
Coffee lovers, are you looking for a quality and stylish coffee maker for your home or office? Then the Micro Casa Semiautomatica from Elektra is just right for you. Here's why this coffee maker is worth the investment:

Classic Italian design

The Elektra Micro Casa Semiautomatica is a traditional espresso machine with a classic Italian design. The chrome plated brass body and polished wood accents make them a stylish addition to any kitchen or office. The machine is handmade in Italy and impresses with its unique design that will impress your guests or customers.

Semi-automatic operation

The Micro Casa Semiautomatica is a semi-automatic espresso machine, meaning it requires some manual operation to brew the perfect cup of coffee. This gives you more control over the brewing process and ensures your coffee is brewed exactly how you want it. The machine features a lever that you pull down to start the brewing process and release to stop, giving you complete control over the coffee extraction.

High quality components

The Elektra Micro Casa Semiautomatica consists of high-quality components that ensure a long service life and reliability of the machine. The boiler is made of brass and is chrome plated, making it corrosion resistant. The machine also has a large water tank, so you can brew multiple cups of coffee without having to refill it.

Easy to clean

The Elektra Micro Casa Semiautomatica is easy to clean and maintain. The machine features a removable drip tray and water tank so you can easily clean up spills or messes. A cleaning brush and group head cleaning tool are also included, so you can always keep the machine in tip-top shape.

Great tasting coffee

The most important aspect of any coffee maker is the quality of the coffee it produces. The Elektra Micro Casa Semiautomatica delivers a great coffee that rivals any coffee shop. The machine features a professional brass portafilter and brew group that ensures an even extraction. With the right coffee beans and a little practice, you can brew the perfect cup of coffee every time.

Investing in a quality coffee maker like the Elektra Micro Casa Semiautomatica allows you to enjoy a delicious coffee from the comfort of your home or office. With its classic Italian design, semi-automatic operation, high-quality components and easy maintenance, this coffee maker is a good investment for any coffee lover.