EUREKA ATOM SPECIALTY 75 - white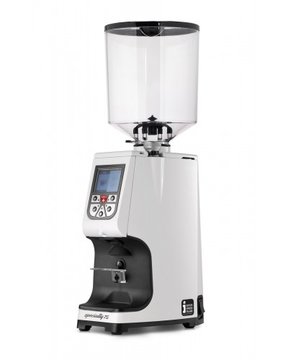 click on image for larger picture
¤ 980,00
VAT included
¤ 803,28
VAT free

Delivery time 3-6 days
Eureka is a company with a long tradition from Florence. Eureka has been producing coffee grinders since 1920 and is now the world's leading manufacturer. Elegant design, innovative construction and technology, that is the Eureka coffee grinder's recipe for success. All Eureka coffee grinders are made by hand, a fine example of Made in Italy.
Silent technology
"High Speed" dispensing
Continuous Micrometric Patented Adjustment
"High Speed" maintenance
ACE system
Universal Adjustable Hands-Free Fork
Blow Up System


MILLSTONES
Type Piane
Diameter 75 mm
Material Hardened steel

DISPENSING SYSTEM
Display Yes (color)
Contadosi Yes
Filter holder lighting Yes

MOTOR
Direct Drive
Revolutions per minute 1400
Power consumption 900 watts
Single-phase power supply

VARIOUS
Available versions Electronic
Continuous fine adjustment Yes
Bell capacity 1.4 kg
Productivity (g / s) 4.5 - 5.5

DIMENSIONS
Height 570 mm
Width 180 mm
Depth 227 mm
Weight 9.5 kg


Blow Up System
"The mechanism" that eliminates retention in a breath.
Zero Retention - Designed for specialties, the action of the mechanism generates an air flow capable of keeping the grinding chamber clean, allowing you to grind all the coffee introduced, without waste, for perfect coffee tasting.

Cleaning - Designed to support the barista in daily use. Fast, simple, to provide its customers with fresh ground coffee.


you may also be interested in following products: