Musso Lussino Mini 4080 110 V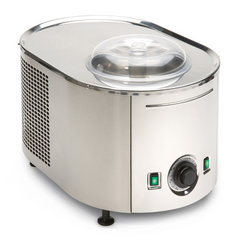 click on image for larger picture
¤ 890,00
coupon
please enter it at checkout
VAT included, plus shipping
Vat-free delivery to all 110 Volt countries. Just insert 123456789 into the Vat number field in order form. You will see the Vat-free amount (-22%) at checkout before you confirm your order. You will be required to pay local taxes and duties at delivery in your country. Please check your local taxes before placing your order.
POWER PLUGS: all shipments with USA 110 volt plug.
Musso 110 Volt - NO USA & CANADA deliveries
Musso 4080 Lussino/Mini ice cream maker 110 Volt

Fully automatic and precisely controlled by a timer, this machine takes the trouble and guesswork out of making ice cream, sorbet, frozen yogurt, gelato, and frozen drinks at home.

Ingredients go into the bowl, the timer is set, two buttons are pressed and about 15 -20 minutes later 1-1/2 quarts ( 750g ) of a frozen confection are ready for consumption. Because the machine doesn't require its bowl to be frozen for hours in a refrigerator's freezer (like less expensive machines that only churn), it can immediately begin making another batch. If a batch becomes too hard the machine shuts off automatically. Not only does it work professionally it looks the part, as the housing, bowl, and paddle are made of stainless steel. Also, the top part of the machine can be removed with the bowl to allow easy cleaning.

The 100-watt machine measures 12 inches wide( 30 cm ), 11 inches high ( 27,5 cm ), and 18 inches deep ( 45 cm ), and it weighs 38 pounds ( 19 kg ). Made it Italy.

Capacity: 1-1/2 qt. ( 750 g)
Power: 110 Volt
"The Cadillacs of ice cream makers."
Los Angeles Daily News

"If you're serious about making your own ice cream, this is the machine for you."
The Wall Street Journal

"Dream Machine, which can make as much as two quarts of ice cream at a time, meant for perfectionists."
The New York Times