Musso Zara Club 110 V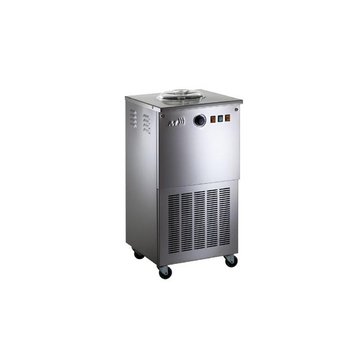 click on image for larger picture

¤ 2.695,00
VAT included
¤ 2.209,02
VAT free

In stock
VAT-FREE delivery to all 110 Volt countries. Just insert 123456789 into the Vat number field in order form. You will see the Vat-free amount (-22%) at checkout before you confirm your order. You will be required to pay local taxes and duties at delivery in your country. Please check your local taxes before placing your order.
POWER PLUGS: all shipments with USA 110 volt plug.
WORLDWIDE WARRANTY (2 years): Best of Italy covers all costs, including transport.
* Totally self-contained professional frozen dessert maker
* Makes up to 2,5 l of homemade ice cream, sorbet, sherbet, and frozen yogurt in approximately 20 minutes
* Can produce up to 9 l per hour
* For commercial use
* Housing including bowl are brushed and polished stainless steel with a matching polished stainless steel blade
* Operation is simplified by the use of a timer which works in conjunction with a Churn and Chill switch to shut the unit off when the set time has elapsed
* Non-removable stainless steel bowl for easy cleaning and efficient cooling * Dimensions: 83cm H x 42W x 45D
* Weight: 65 kg
* Refrigerant : r134
* Electrical: 110 Volt
* Manufactured in Italy

Comparison of the different Musso models:

Musso Mini 4080
0,75 L 20 min / 2 L hour / compressor 200 Watt / stainless steel / 18 kg

Musso Stella 5030
1.5 kg, 20 min / 4,5 L hour / compressor 250 Watt / stainless steel / 30 kg

Musso Stella CHEF**
1.5 kg in 20 min / 4,5 L hour / compressor 300 Watt / stainless steel / 30 kg

** difference to model Stella 5030: safety device for commercial use / stainless steel

Musso Giardino
2,5 L in 20 min / 9 L hour / 570 Watt / stainless steel / 62 kg

Musso Club
identical with Fiume Giardino, different form factor / stainless steel / 65 kg

Musso Consul
12 L hour / 1200 Watt / stainless steel / 105 kg