Nemox Gelato 3K TOUCH i-Green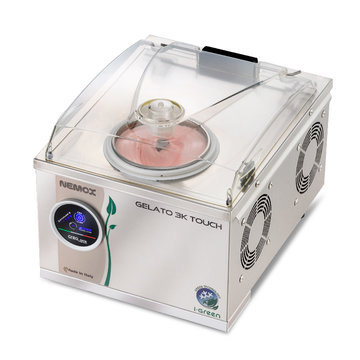 click on image for larger picture

¤ 2.590,00
VAT included
¤ 2.122,95
VAT free

Delivery time ~10 days
VAT-FREE FOR ALL COUNTRIES OUTSIDE the EU. Shipments to UK Vat-free (-22%). UK customers must pay UK Vat at delivery. More info here
POWER PLUGS: all shipments to the UK and Ireland with plug adapter (BEAB approved)
WORLDWIDE WARRANTY (2 years)
Call our English hotline +39 339 8860577
With the Nemox Gelato 3K TOUCH you can prepare gelato, ice cream and sorbet on demand!
Ideal for small restaurants and cafes. The customer selects their favourite flavour and in a few minutes it will be delivered straight to the table. Fresh, just churned and of the highest quality!
Inner bowl is AISI 304 stainless steel.
Continuous operating capability allows rapid production of several different flavours.
The machine body is entirely made of stainless steel, like the mixer blade, featuring replaceable inserts.
Air cooling. Mechanical 30 minute timer.

Makes 800 g, - 1.2 every 15 minutes!
3,4 kg - 4,8 liters per hour!
TECHNICAL SPECIFICATIONS:
220-240V 50Hz/1 - 350W
Air cooling: yes
AISI 304 stainless steel fixed bowl 1,7 l. - 1,8 qt
Max Ingredients qty 0,8 Kg-0,75 l.- .8 qt
Max Production/Hour 3,4 Kg - 4,8 l. - 5 qt
Preparation time 15'
Mixing motor - Induction with thermostat: yes
Thermic safety - Compressor and mixing motor: yes
Reduction 63 rpm
Timer 30'
Variable mixing speed
Wheels with brakes (RF) or adjustable feet (PR) PR
Horizontal extraction: no
Electronic control with inverter: no
Stainless steel body: yes
Width cm 34 - in 13,40
Depth cm 40 - in 15,75
Height cm 25 - in 9,84
Net Weight 19 Kg - 42 lb
Shipping Carton cm. 44x52x35
in 17.3x20.5x13.8
kg. 23 - lb 51

Accessories included:

Ice cream spatula: yes •
Paddle inserts 1 set

Capacity of the different Nemox models:

Chef 3L
30-35 minutes about 850 g, per hour 1.5 kg / 3 L

Chef 5L
20-30 minutes about 1 kg, per hour 2 kg / 3.2 L

3K TOUCH
15 minutes about 800 g, per hour 3.4 kg / 4.8 l

4K TOUCH
15 minutes about 1 kg, per hour about 4 kg / 5.6 L

5K CREA SC
15 minutes about 1.25 kg, per hour 5 kg / 7 L
6K CREA
15 minutes about 1.5 kg, per hour 5 kg / 7 L

10K CREA
15 minutes about 2 kg, per hour 10 kg / 14 L

15K CREA
15 minutes about 3 kg, per hour 15 kg / 20 L
Lemon ice cream recipe
Summer is the perfect time to enjoy delicious and refreshing ice cream. One of the best flavors for this time of year is lemon. The tangy and sweet taste of lemon ice cream is perfect for hot days. Here's a recipe for homemade lemon ice cream that will cool you down and satisfy your sweet tooth.
Ingredients: - 2 cups of heavy cream - 1 cup whole milk - 1 cup of granulated sugar - 1/2 cup freshly squeezed lemon juice - 1 tablespoon of lemon zest - A pinch of salt
Instructions: 1. In a medium-sized saucepan, combine cream, whole milk, and granulated sugar. Heat over medium heat, stirring occasionally, until sugar is completely dissolved. 2. Once the sugar has dissolved, remove the saucepan from the heat and stir in the lemon juice, lemon zest, and a pinch of salt. 3. Allow the mixture to cool to room temperature, then cover and refrigerate for at least 2 hours or overnight. 4. Once the mixture has cooled, transfer to an ice cream maker and prepare according to manufacturer's directions. 5. Transfer the finished ice cream into a container and freeze for at least 2 hours or until set.
Tips: - Add more lemon zest or juice for a more intense lemon flavor. - To make the ice cream creamier, add a tablespoon of vodka to the mixture before churning. - Serve with a slice of lemon or a sprig of mint to freshen it up.
Conclusion: Making lemon ice cream at home is a great way to enjoy a delicious and refreshing treat this summer. With just a few simple ingredients and an ice cream maker, you can whip up a creamy and tangy dessert that's perfect for any occasion. Try this recipe and enjoy the taste of homemade lemon ice cream.


you may also be interested in following products: