Nemox Gelato 6K CREA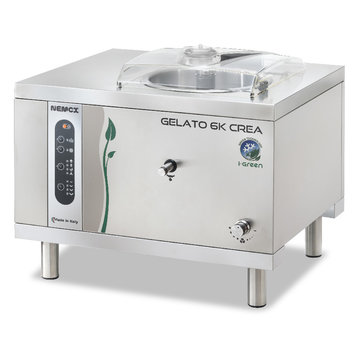 click on image for larger picture

¤ 6.900,00
VAT included
¤ 5.655,74
VAT free

Delivery time ~10 days
VAT-FREE FOR ALL COUNTRIES OUTSIDE the EU. Shipments to UK Vat-free (-22%). UK customers must pay UK Vat at delivery. More info here
POWER PLUGS: all shipments to the UK and Ireland with plug adapter (BEAB approved)
WORLDWIDE WARRANTY (2 years)
Call our English hotline +39 339 8860577
PROFESSIONAL GELATO, ICE CREAM & SORBET MAKER. It is the most compact fully automatic table-top unit. Made in Italy. 120V/60Hz/1 Phase - 800W, AUTOMATIC program and storage, Air cooling. Electronic Speed Control, Inverter. Gravity drain. Gas R404. S/S case and paddle. Optional removable bowl.
In addition to the normal manual function, the operator has at his disposal:

- 4 Specific production programs (Gelato Classico - Semi-Soft Ice Cream - Granita – Shock freezing)
- 4 Specific storage programs selectable depending on the different needs and characteristics of the product
These automatic programs, as well as ensuring the best results, make the machine completely autonomous, leaving the operator free to focus on other tasks.
Key Features:

• An electronic inverter system for the control and regulation of the motor enables to vary the number of rpms of the blade (from 55 to 115 rpm) to achieve desired results
• The compact size allows you to place PRO 6K CREA in every professional kitchen.
• Easy cleaning through the drain valve.
• Blade is stainless steel AISI 304 with adjustable scrapers.
• Air cooling
• Produces Max 1.75 kg in 15 '. 7 kg / 10 liters per hour
• 58x55x53,7 cm
• Net weight 42 kg, gross weight 50 kg
• Made in Italy

Capacity of the different Nemox models:

CHEF 3L
30-35 minutes about 850 g, per hour 1.5 kg / 3 L

CHEF 5L
20-30 minutes about 1 kg, per hour 2 kg / 3.2 L

3K TOUCH
15 minutes about 800 g, per hour 3.4 kg / 4.8 l

4K TOUCH
15 minutes about 1 kg, per hour about 4 kg / 5.6 L

5K CREA SC
15 minutes about 1.25 kg, per hour 5 kg / 7 L

6K CREA
15 minutes about 1.5 kg, per hour 5 kg / 7 L

10K CREA
15 minutes about 2 kg, per hour 10 kg / 14 L

15K CREA
15 minutes about 3 kg, per hour 15 kg / 20 L

you may also be interested in following products: