Nuova Simonelli Grinta AMMT - red 110V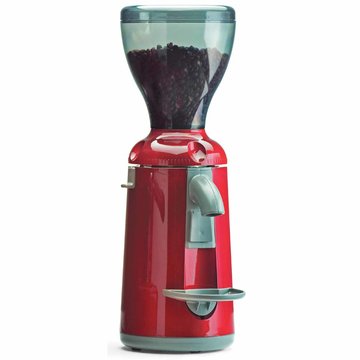 click on image for larger picture

¤ 329,00
VAT included
¤ 269,67
VAT free

Delivery time 3-6 days
VAT-FREE delivery to all 110 Volt countries. Just insert 123456789 into the Vat number field in order form. You will see the Vat-free amount (-22%) at checkout before you confirm your order. You will be required to pay local taxes and duties at delivery in your country. Please check your local taxes before placing your order.
POWER PLUGS: all shipments with USA 110 volt plug.
WORLDWIDE WARRANTY (2 years): Best of Italy covers all costs, including transport.
Grinta Grinder AMMT: electronic TimeSet Dosing - 110V

Grinta perfect and micrometric grinding for an excellent coffee.
Electronic positive-displacement dosing. Coffee is only ground when you want to prepare a cup of coffee. This is the simple yet ingenious function of the Grinta grinder-doser unit.
All the aroma and flavour of freshly ground coffee. For this reason, Grinta is ideal for the family, in the office and also in the café, for a decaffeinated cup of coffee. Grinta has a design that matches any coffee machine. With Grinta your coffee is perfect every time.
SPECIFICATIONS:
- AMMT modelnet/gros weight: 3,6/4kg
- Electric power: 220W
- Blades: 50mm
- Production rate: 3,6Kg/h
- Dimension: mm 140x420x210

you may also be interested in following products: