Nuova Simonelli Grinta AMMT - red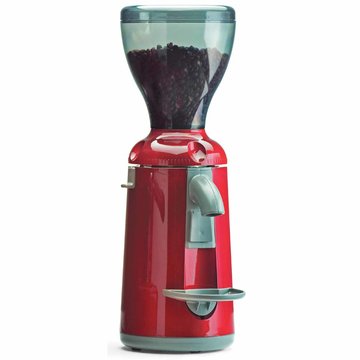 click on image for larger picture

¤ 329,00
VAT included
¤ 269,67
VAT free

Delivery time 3-6 days
VAT-FREE FOR ALL COUNTRIES OUTSIDE the EU. Shipments to UK Vat-free (-22%). UK customers must pay UK Vat at delivery. More info here
POWER PLUGS: all shipments to the UK and Ireland with plug adapter (BEAB approved)
WORLDWIDE WARRANTY (2 years)
Call our English hotline +39 339 8860577
Grinta Grinder AMMT: electronic TimeSet Dosing.
Grinta perfect and micrometric grinding for an excellent coffee.
Electronic positive-displacement dosing. Coffee is only ground when you want to prepare a cup of coffee. This is the simple yet ingenious function of the Grinta grinder-doser unit.
All the aroma and flavour of freshly ground coffee. For this reason, Grinta is ideal for the family, in the office and also in the café, for a decaffeinated cup of coffee. Grinta has a design that matches any coffee machine. With Grinta your coffee is perfect every time.
SPECIFICATIONS:
- AMMT modelnet/gros weight: 3,6/4kg
- Electric power: 220W
- Blades: 50mm
- Production rate: 3,6Kg/h
- Dimension: mm 140x420x210

you may also be interested in following products: