Imperia RMN 220 manual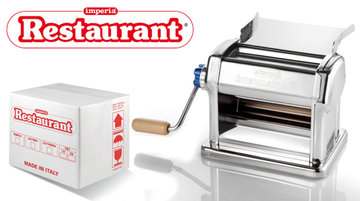 click on image for larger picture
¤ 549,00
VAT included
¤ 450,00
VAT free

Delivery time 2 weeks
What would Italy be without pasta? It is therefore not surprising that the leading pasta machine manufacturers come from Italy. Imperia and Velma Pastaline are the best known pasta machine producers.
It's much easier than you think to make pasta yourself. All you need is a pasta machine. This not only saves time, the joy in the result is also great. You know all the ingredients and can let your imagination run wild with the production of spaghetti, ravioli, tortellini or tagliatelle.
Manual pasta maschine

Product video
All steel manual pasta roller machine for restaurants and professionals. La Sfogliatrice series The most popular maker among chefs and conoissuers around the world.
It prepares sheets of 9 in. and maximum roller opening of 3/8 in. has adjusting knob with ten numbered thickness settings. Available on request extra five Simplex cutters: Angel Hair 1,5mm - Tagliatelle 2mm Linguine 4mm Fettuccine 6,5mm and Lasagnette 12mm and a dough mixer.

you may also be interested in following products: