Velma Pastaline - Giotto Mini Dough Sheeter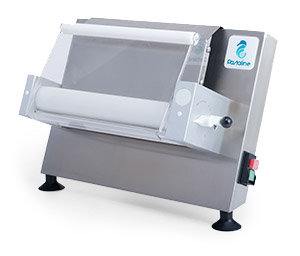 click on image for larger picture

¤ 925,00
VAT included
¤ 758,20
VAT free

Delivery time 1 week
The Giotto Mini Dough Sheeter is an excellent choice for small-scale production applications and comes with one pair of rollers that enable the user to roll out either round or rectangular pizza bases up to 30cm in diameter or width.
The Giotto range of Dough Sheeters are versatile machines that can be used for processing dough for various applications such as pizzas, breads, flatbreads, "focaccia" bread, cakes, samoosas, and more. These machines are entirely manufactured from stainless steel and equipped with food-grade resin rollers that comply with the most stringent workplace health and safety regulations.
The Giotto range of Dough Sheeters are highly reliable and their smaller size makes them ideal for use in workshops with limited space. They can process the dough at ambient temperature without altering the organoleptic characteristics and the quality of the end-product. The diameter of the pizza base or the width of the "focaccia" bread depends on the length of the lower pair of rollers.
All the dual-roller Giotto Dough Sheeter models are designed to be used with an electric start pedal, and each pair of rollers has its own lever for setting the desired dough thickness.
Technical data:
- 230/240 v 50hz 0,37 Kw - 110 Volt
- Dimension 33x42x29 cm (HxLx D)
- Weight 21 kg

you may also be interested in following products: