Velma Pastaline - Maxy Sfogly NSF Dough Sheeter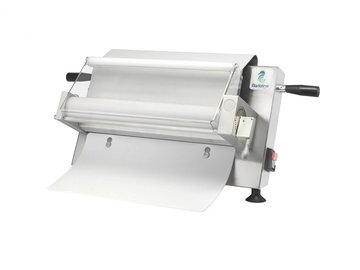 click on image for larger picture

¤ 1.750,00
VAT included
¤ 1.434,43
VAT free

In stock
The Mini & Maxi Sfogly Pastaline machines by Velma are versatile machines that can process not only sweet icings, modelling chocolate, and marzipan, but also puff pastry and short-crust pastry.
These machines make it easy to process any type of dough or mixture and draw it into thin, even sheets (up to 0.5mm). With just a few passes through the Mini or Maxi Sfogly, you can coat biscuits, cupcakes, and even large single or multi-layer cakes with a perfect, even coating. The dough rollers allow you to lay multiple layers of different coloured icings on top of each other to create special and exciting designs and floral decorations.
The Mini Sfogly machine is easy to operate and guarantees safe and reliable functioning over time. Cleaning these machines is a breeze as the springs and scrapers can be easily removed.
Technical data:

230/240 v 50hz 0,37 Kw - 110 Volt
Roller 45 cm diam 60mm
Thickness range 0-10mm
Dimension 56x33x29 cm (HxLx D)
Weight 29.9 kg

you may also be interested in following products: