Pontevecchio Lever Espresso Export - chrome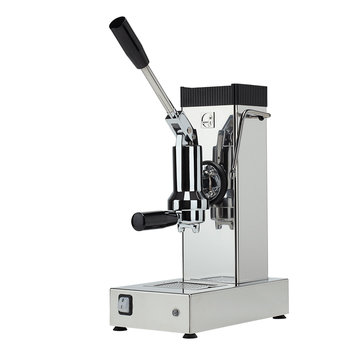 click on image for larger picture
¤ 990,00
VAT included
¤ 811,48
VAT free

Delivery time 2 weeks
VAT-FREE FOR ALL COUNTRIES OUTSIDE the EU. Shipments to UK Vat-free (-22%). UK customers must pay UK Vat at delivery. More info here
POWER PLUGS: all shipments to the UK and Ireland with plug adapter (BEAB approved)
WORLDWIDE WARRANTY (2 years): Best of Italy covers all costs, including transport.
Call our English hotline +39 339 8860577
Lever coffee machines from Ponte Vecchio
The old bridge ("Ponte Vecchio" in Italian) in Pavia was built in 1351 to connect the historical core of the city with its surroundings. The professional lever coffee machines from Ponte Vecchio are simple and elegant. Ponte Vecchio uses sheet steel and brass in the manufacture.
High quality, elegant and durable, that's the best way to describe these coffee machines. The Ponte Vecchio Export made of stainless steel chrome and brass for an espresso machine with small dimensions. Thanks to the piston technology, espresso lovers can look forward to a real espresso.
The craftman's approach: it is the core of Ponte Vecchio production. Currently the company produces two models, Lusso and Export, both entirely made of brass and stove-enamelled steel plate.
Domestic coffeemakers, by craftsman's approach, ideal for family use, for offices and small communities which are in no way inferior to professional ones. Simple and elegant design, top quality of the components, ease of installation and simplicity of working are the best guarantee of Ponte Vecchio products. Italian products which are build to last!

Features:
* Enterely made of brass, and stove-enamelled steel plate
* Automatic operation controlled by pressure switch
* Visual control of water level, safety valve on boiler
* Steam tap, removable cup heater
* Cast aluminium drip-tray base
* Delivery unit and filter-holder made from a chromium-plated brass casting
Specifications:

* Measurements: (H - 39cm x W - 16cm x D - 28cm).
* Weight 8 Kilograms
* Water Tank Capacity: 0,9 liter.
* Power 700 Watt

Accessories included:
1 portafilter, 1 one-cup filter basket, 1 two-cup filter basket, 1 coffee tamper, 1 coffee scoop, 1 funnel.

you may also be interested in following products: