Pontevecchio Lever Espresso Export - chrome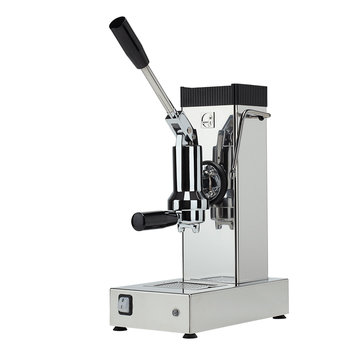 click on image for larger picture

¤ 1.139,00
VAT included
¤ 933,61
VAT free

Delivery time 2 weeks
VAT-FREE FOR ALL COUNTRIES OUTSIDE the EU. Shipments to UK Vat-free (-22%). UK customers must pay UK Vat at delivery. More info here
POWER PLUGS: all shipments to the UK and Ireland with plug adapter (BEAB approved)
WORLDWIDE WARRANTY (2 years)
Call our English hotline +39 339 8860577
The Ponte Vecchio Export is made of brass and painted sheet steel. It works automatically and is controlled by a pressure switch. The electric heater has an armored immersion element with 800 watts.
It is perfect for making espresso at home and its small size makes it easy to carry. The base is equipped with supports for stability.
* Enterely made of brass, and stove-enamelled steel plate
* Automatic operation controlled by pressure switch
* Visual control of water level, safety valve on boiler
* Steam tap, removable cup heater
* Cast aluminium drip-tray base
* Delivery unit and filter-holder made from a chromium-plated brass casting
Specifications:

* Measurements: (H - 39cm x W - 16cm x D - 28cm).
* Weight 8 Kilograms
* Water Tank Capacity: 0,9 liter.
* Power 700 Watt

Accessories included:
1 portafilter, 1 one-cup filter basket, 1 two-cup filter basket, 1 coffee tamper, 1 coffee scoop, 1 funnel.

you may also be interested in following products: