Pontevecchio Lusso Lever - black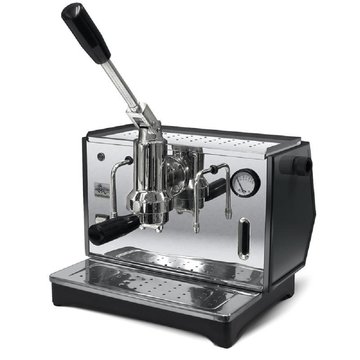 click on image for larger picture

¤ 1.360,00
VAT included
¤ 1.114,75
VAT free

Delivery time 2 weeks
VAT-FREE FOR ALL COUNTRIES OUTSIDE the EU. Shipments to UK Vat-free (-22%). UK customers must pay UK Vat at delivery. More info here
POWER PLUGS: all shipments to the UK and Ireland with plug adapter (BEAB approved)
WORLDWIDE WARRANTY (2 years)
Call our English hotline +39 339 8860577
The LUSSO lever coffee machines have a robust and reliable construction that is purely mechanical. They consist of a single brewing unit and a control unit connected to a probe that indicates low water levels through an indicator light. This also cuts off the power to the heating element to prevent damage.
What is unique about these espresso machines is that they can cut off the power supply when the optimal pressure is reached. This reduces power consumption and allows longer operation without the risk of overheating.
The pressure gauge measures the water pressure in the boiler and ensures proper operation. Once the machine has reached the right pressure, the espresso can be brewed perfectly. It has two lances - one for steam and one for heating water in real time.
Ponte Vecchio works according to an artisanal concept in production, which results in two current models: Lusso and Export, both made of brass and stove-enamelled sheet steel.
These home coffee makers have a craft style that's ideal for families, small communities, and offices. The simple and elegant design, high quality components, easy installation and user-friendly operation are the best guarantee of Ponte Vecchio products - durable Italian products.

Features:
* Enterely made of stove-enamelled steel plate and stainless steel panels Automatic operation controlled by pressure switch.
* Pression gauge. Visual control of water level.
* Control lamp.
* Pilot switch.
* Stainless removable cup heater and drip-tray.
* Delivery unit and filterholder made from a chromium-plated brass casting: unit preheated by forced circulation of hot water from boiler, always ready for use at optimum operating temperature.
Specifications:
* Measurements: H - 28cm x W - 36cm x D - 28cm).
* Weight 12 Kilograms.
* Water Tank Capacity: 3 liters
* Power 1000 Watt, 220 Volt.
* Colors: chrome, black o Red
Accessories:
* 2 portafilters, 2 one-cup filter baskets, 2 two-cup filter baskets, 1 coffee tamper, 1 coffee scoop, 1 funnel.