Pontevecchio Lusso 2 Gruppi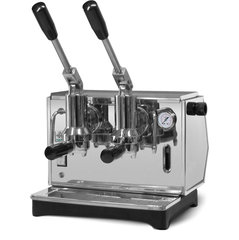 click on image for larger picture
¤ 1.220,00
coupon
please enter it at checkout
VAT included, plus shipping
Vat-free delivery to all 110 Volt countries. Just insert 123456789 into the Vat number field in order form. You will see the Vat-free amount (-22%) at checkout before you confirm your order. You will be required to pay local taxes and duties at delivery in your country. Please check your local taxes before placing your order.
POWER PLUGS: all shipments with USA 110 volt plug.
Pontevecchio Lusso 2 Gruppi 100 Volt
The craftman's approach: it is the core of Ponte Vecchio production. Currently the company produces two models, Lusso and Export, both entirely made of brass and stove-enamelled steel plate.
Domestic coffeemakers, by craftsman's approach, ideal for family use, for offices and small communities which are in no way inferior to professional ones. Simple and elegant design, top quality of the components, ease of installation and simplicity of working are the best guarantee of Ponte Vecchio products. Italian products which are build to last!

Features:
* Enterely made of stove-enamelled steel plate and stainless steel panels Automatic operation controlled by pressure switch.
* Pression gauge. Visual control of water level.
* Control lamp.
* Pilot switch.
* Stainless removable cup heater and drip-tray.
* Delivery unit and filterholder made from a chromium-plated brass casting: unit preheated by forced circulation of hot water from boiler, always ready for use at optimum operating temperature.
Specifications:
* Measurements: H - 28cm x W - 36cm x D - 28cm).
* Weight 12 Kilograms.
* Water Tank Capacity: 3 liters
* Power 1000 Watt, 110 Volt.
* Colors: chrome, black o Red
Accessories
* 2 portafilters, 2 one-cup filter baskets, 2 two-cup filter baskets, 1 coffee tamper, 1 coffee scoop, 1 funnel.