Rancilio Silvia Pro X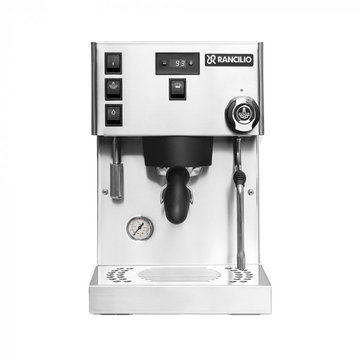 click on image for larger picture

¤ 1.690,00
VAT included
¤ 1.385,25
VAT free

Delivery time 3-6 days
VAT-FREE FOR ALL COUNTRIES OUTSIDE the EU. Shipments to UK Vat-free (-22%). UK customers must pay UK Vat at delivery. More info here
POWER PLUGS: all shipments to the UK and Ireland with plug adapter (BEAB approved)
WORLDWIDE WARRANTY (2 years)
Call our English hotline +39 339 8860577
The Rancilio Silvia Pro X is a new one group espresso machine with digital display, double boiler, two PID controllers and soft infusion technology.
While retaining the look of the Rancilio Silvia, it has several features that set it apart from the competition.
It has a compressor with performance, functional specifications and professional components. Its main features include dual boiler technology, electronic water temperature control, adjustable temperature control, a professional pressure gauge, soft pre-infusion function and a rinsing function.
Properties:
Dual boiler technology. Two independent boilers, both equipped with a PID system. One boiler is for making coffee, the other for providing hot water and steam.
PID. Electronic control of the water temperature in the coffee boiler and steam boiler via internal PID that offers extremely accurate temperature stability.
temperature control. The water temperature for coffee and steam can be conveniently set using the display buttons.
pressure gauge. The professional pressure gauge shows the pressure of the coffee boiler in real time.
Soft pre-infusion. By activating the soft pre-infusion function, water is gently distributed from the coffee boiler to the coffee table at reduced pressure. This function, with adjustable duration from 0 to 6 seconds, allows for an optimal preparation of the coffee table, promoting a smooth and efficient extraction, ie able to preserve and enhance the sensory characteristics of any type of blend or single origin coffee.
flush function. When removing the filter holder, the group is automatically rinsed.
High-quality professional equipment and heavy-duty components:
ergonomic portafilter,
insulated boilers,
Multidirectional stainless steel steam nozzle,
steam button,
cup rack
Brass brewing unit
General properties:
- Rancilio technology in just 25 cm²
- Stainless steel body
- Digital display with shot timer, temperature display, water alarm
- On timer
- 8g and 16g filter baskets
- Built-in 2L water tank, easy to remove for cleaning
- Pods&Caps adapter kit (optional)
- Energy-saving insulated boilers
- Stainless steel drip tray, easily removable for cleaning
- Height-adjustable cup tray, easily removable for cleaning