Rocket Appartamento - copper/black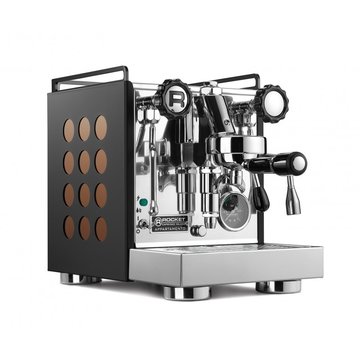 click on image for larger picture
¤ 1.490,00
VAT included
¤ 1.221,31
VAT free

Delivery time 2 weeks
VAT-FREE FOR ALL COUNTRIES OUTSIDE the EU. Shipments to UK Vat-free (-22%). UK customers must pay UK Vat at delivery. More info here
POWER PLUGS: all shipments to the UK and Ireland with plug adapter (BEAB approved)
WORLDWIDE WARRANTY (2 years): Best of Italy covers all costs, including transport.
Call our English hotline +39 339 8860577
The ultra-modern and noble coffee machines and coffee grinders from Rocket are produced in Milan in the best Italian craft tradition. All machines are made by hand, the attention to detail and the classic award-winning design are impressive.

The Rocket Espresso Appartamento models and the R58 model, which can be controlled via a PID software interface, receive special recognition.
NOT AVAILABLE IN AUSTRALIA/NEW ZEALAND

The Rocket Espresso Appartamento is a heat exchanger machine with a small footprint. The main features cosmetically that stand out are the circular side panel pattern inserts that comes in white or copper. It also has nice wide feet. The steam and hot water taps are designed like the R58 taps with a similar cool-touch wand like the Giotto. This entry level HX is a has a square look unlike any other Rocket, and is packed with great features. It will undoubtedly become a sought after machine among those who are space and budget sensitive.
Rocket engineers optimised the chassis and layout of the internal components without compromising on the quality and features you expect from Rocket Espresso. Vibratory pump with adjusted temperature. Steel body, copper boiler with 1.80lt capacity and Faema E61 group with temperature exchange system to guarantee a very good thermal stability.
The vibrating pump that responds to contrast. This means that if the coffee is well ground the pump will work at 8-9bars, if the coffee is ground too thick it will work at 4-6bars and if it is too thin it will work at higher pressures.
Functionality and characteristics:
Design of the boiler with temperature exchange
Coffee maker built 100% in stainless steel
Boiler capacity: 1.80 liters
Removable water tank of 2.25 liters, no hard plumbing
Head of the heated group: A small flow of water leaving the boiler keeps the head of the machine group warm to achieve more consistent temperatures
Power: 1200 watts
Dimensions: 27 x 42 x 36 cm (width x depth x height). The compact size makes it fit in kitchens and limited spaces
Weight: 20 kilograms

you may also be interested in following products: