Rocket Appartamento - white/black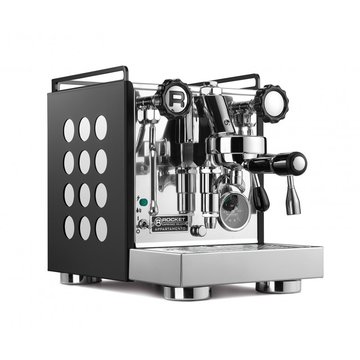 click on image for larger picture

¤ 1.490,00
VAT included
¤ 1.221,31
VAT free

Delivery time 2 weeks
VAT-FREE FOR ALL COUNTRIES OUTSIDE the EU. Shipments to UK Vat-free (-22%). UK customers must pay UK Vat at delivery. More info here
POWER PLUGS: all shipments to the UK and Ireland with plug adapter (BEAB approved)
WORLDWIDE WARRANTY (2 years): Best of Italy covers all costs, including transport.
Call our English hotline +39 339 8860577
The Rocket Espresso Appartamento is a small heat exchanger machine with a unique square look. It comes in white or copper with circular side panel pattern inserts and nice wide feet. The steam and hot water taps have a cool-touch wand design similar to the R58 taps and Giotto machine. Rocket's engineers optimized the chassis, internal components, and layout to maintain quality and features. The machine has a vibrating pump that adjusts to the contrast of the coffee ground. It has a steel body, copper boiler with 1.80lt capacity, and Faema E61 group with a temperature exchange system to ensure good thermal stability. The machine will be popular among those who need a budget-friendly and space-saving option.
Functionality and characteristics:
Design of the boiler with temperature exchange
Coffee maker built 100% in stainless steel
Boiler capacity: 1.80 liters
Removable water tank of 2.25 liters, no hard plumbing
Head of the heated group: A small flow of water leaving the boiler keeps the head of the machine group warm to achieve more consistent temperatures
Power: 1200 watts
Dimensions: 27 x 42 x 36 cm (width x depth x height). The compact size makes it fit in kitchens and limited spaces
Weight: 20 kilograms

you may also be interested in following products: