Rocket Cronometro Mozzafiato V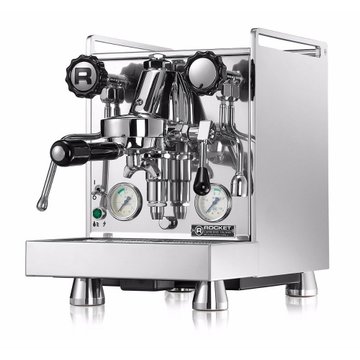 click on image for larger picture
¤ 1.850,00
VAT included
¤ 1.516,39
VAT free

Delivery time on request
VAT-FREE FOR ALL COUNTRIES OUTSIDE the EU. Shipments to UK Vat-free (-22%). UK customers must pay UK Vat at delivery. More info here
POWER PLUGS: all shipments to the UK and Ireland with plug adapter (BEAB approved)
WORLDWIDE WARRANTY (2 years): Best of Italy covers all costs, including transport.
Call our English hotline +39 339 8860577
The ultra-modern and noble coffee machines and coffee grinders from Rocket are produced in Milan in the best Italian craft tradition. All machines are made by hand, the attention to detail and the classic award-winning design are impressive.

The Rocket Espresso Appartamento models and the R58 model, which can be controlled via a PID software interface, receive special recognition.
NOT AVAILABLE IN AUSTRALIA/NEW ZEALAND

Rocket Cronometro Mozzafiato V

The Rocket Cronometro V model is offered in two different body styles – Giotto and Mozzafiato - both with heat exchanger PID temperature control technology. Now with digital shot timer allowing the user to better optimise extraction time. Temperature control is optimised through a PID controller drawing on 4 different signal parameters to ensure stability and optimum results in the cup. An adjustable temperature display allows the user to select individual brewing temperatures for different coffee types and roast styles.
The Type V range is ideally suited for home use.
Features include the proven thermo siphon system, nickel plated boiler with lead free brass end plates for increased thermal retention.
New to the Type V range is the full commercially rated SIRAI pressure stat, which has a far greater degree of accuracy over the life time of the machine. Additionally, the thermo siphon system has been enhanced through the use of increased diameter copper tubes that supply the water to the brewing group. Now includes a water reservoir, low level, indication warning system.
Technical features
Built in every way to replicate the commercial espresso machine experience, utilising the very best in commercial espresso machine technology.
Features such as cool touch steam and hot water wands enhance the experience.
The boiler has been nickel plated, and has a solid, lead free brass end plate to aid thermal stability and heat retention.
Boiler capacity of 1.8 litres has been matched to the thermo siphon system to enhance the balance of the espresso machine and the ability to texture perfect milk.
The 1.8 litre boiler ensures quick heat up time to optimise perfect extraction temperature of 92 degrees, now controlled by a full commercial grade, SIRI pressurestat.
This espresso machine has been designed and manufactured using the highest grade materials to enable the espresso tradition to live on in your home.
* Digital shot timer
* Heat exchanger boiler design
* PID control for greater temperature stability
* Boiler capacity: 1.8 litres
* Vibration pump
* 2.5 litres water reservoir
* Height adjustable feet
* Stainless steel cup frame as standard
* Wattage: 1200 W
DIMENSIONS
MOZZAFIATO
( width x depth x height ) 280 x 425 x 400 mm
weight : 25 kg
GIOTTO
( width x depth x height ) 335 x 420 x 400 mm ( 425 mm with cup frame)
weight : 23 kg

you may also be interested in following products: