Rocket Cronometro Mozzafiato V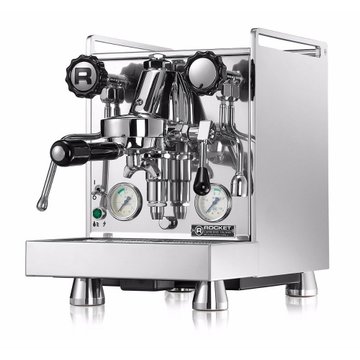 click on image for larger picture

¤ 1.850,00
VAT included
¤ 1.516,39
VAT free

Delivery time on request
VAT-FREE FOR ALL COUNTRIES OUTSIDE the EU. Shipments to UK Vat-free (-22%). UK customers must pay UK Vat at delivery. More info here
POWER PLUGS: all shipments to the UK and Ireland with plug adapter (BEAB approved)
WORLDWIDE WARRANTY (2 years)
Call our English hotline +39 339 8860577
The Cronometro machines have advanced technology typically found only in full-sized commercial espresso machines. They include a digital shot timer, PID temperature control, and insulated boilers. Additionally, Rocket Espresso 9 mm boiler end plates enhance stability and temperature control. The use of a rotary pump provides quiet and robust pump performance, and the machine can draw water from its internal reservoir or connect directly to the water supply.
Technical features:
Built in every way to replicate the commercial espresso machine experience, utilising the very best in commercial espresso machine technology.
Features such as cool touch steam and hot water wands enhance the experience.
The boiler has been nickel plated, and has a solid, lead free brass end plate to aid thermal stability and heat retention.
Boiler capacity of 1.8 litres has been matched to the thermo siphon system to enhance the balance of the espresso machine and the ability to texture perfect milk.
The 1.8 litre boiler ensures quick heat up time to optimise perfect extraction temperature of 92 degrees, now controlled by a full commercial grade, SIRI pressurestat.
This espresso machine has been designed and manufactured using the highest grade materials to enable the espresso tradition to live on in your home.
* Digital shot timer
* Heat exchanger boiler design
* PID control for greater temperature stability
* Boiler capacity: 1.8 litres
* Vibration pump
* 2.5 litres water reservoir
* Height adjustable feet
* Stainless steel cup frame as standard
* Wattage: 1200 W
DIMENSIONS
MOZZAFIATO
( width x depth x height ) 280 x 425 x 400 mm
weight : 25 kg
GIOTTO
( width x depth x height ) 335 x 420 x 400 mm ( 425 mm with cup frame)
weight : 23 kg

you may also be interested in following products: