Eureka - Mignon Silenzio, chrome CR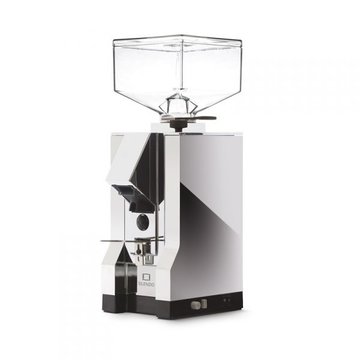 click on image for larger picture
£ 487,20
VAT included
£ 399,34
VAT free

Delivery time 2 weeks
Eureka is a company with a long tradition from Florence. Eureka has been producing coffee grinders since 1920 and is now the world's leading manufacturer. Elegant design, innovative construction and technology, that is the Eureka coffee grinder's recipe for success. All Eureka coffee grinders are made by hand, a fine example of Made in Italy.
Eureka - Mignon Silenzio, chrome
The Micrometric adjustment of grinding thickness with rotor blades axial slide enables the best possible grinding Its instant dosing ensure the best quality and aroma. The special 50 mm burrs, conceved for barista, offers excellent grind dispersionspeed and performances.
Notwithstanding its dimension, Mignon Istantaneo guarantees the same grinding quality and many other features as all other Eureka professional grinders.
-Power: 240/50 Hz 026 Kw 1350 RPM Single phase with overload thermic protection
-Hopper capacity: 300 g Made of clear Kostil Food approved
-Grinder blades: Ø 50 Made of hardened steel
-Grinder control Micrometric Rapid micrometric regulator with display of grinding type
-New All Purpose "Hand Free" fork suitable to any type of filter holder
-ACE System which prevents the clumps formation and guarantees cleanliness and dose precision
-Body: Aluminium Chromed panels
-Burr: Material Harden Steel
-Width: 120 mm
-Depth: 180 mm
-Height: 350 mm
-Weight 5.6 kg

you may also be interested in following products: