Nemox Gelato Chef 3L AUTOMATIC I-Green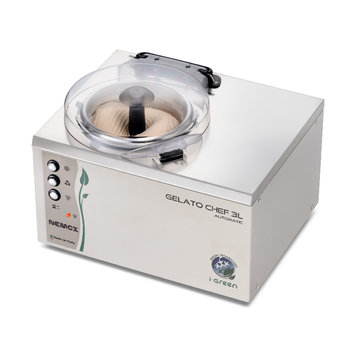 click on image for larger picture
£ 1.343,00
VAT included
£ 1.100,82
VAT free

delivery time 3-6 days
You don't necessarily have to go to the ice cream parlor to enjoy delicious ice cream in summer. With a suitable ice cream maker from Musso or Nemox, ice cream can be prepared very easily and quickly at home.
If you make your own ice cream, you know exactly what's in it. You can prepare any type and flavor yourself. Cream and milk, some sugar, egg yolk. Those who want to do without animal products use soy, almond or coconut milk.
The bestsellers of our ice cream machines are the Musso Lussino Mini 4080, the Musso Pola Stella Chef, the Nemox Gelatopro 1700 Up and the Nemox Gelato 4K Touch.
The latest development in the Nemox range and the result of more than 30 years of experience in design and manufacturing of gelato machines for both household and professional use.


Gelato Chef 3L AUTOMATIC prepares your gelato and, when ready, it automatically stores it in the machine, and keep it at the right temperature as long as needed!


The software developed by Nemox allows to detect the density of your gelato. When the preparation has reached a determined consistency, the software automatically stops the mixing motor and switches to storage mode.


You can process up to 800/1000g of mixture in 25-35 minutes, using the fixed bowl or the handy removable bowl; both made of 18/10 stainless steel.


The machine's operation is very flexible, it can be used in fully automatic or manual mode.
Production per cycle
Every 30-35 minutes 0,85 kg (1,5 l.)
Production per hour
1,7 kg / 3 l.
Dimensions 405X325x300 mm
Net Weight 15,4 kg
Every 30-35 minutes 0.85 g (1,5 l.)
1,5 kg / 3l.
460x530x340 mm
18,4 kg
8024872139134

Capacity of the different Nemox models:

CHEF 3L
30-35 minutes about 850 g, per hour 1.5 kg / 3 L

CHEF 5L
20-30 minutes about 1 kg, per hour 2 kg / 3.2 L

3K TOUCH
15 minutes about 800 g, per hour 3.4 kg / 4.8 l

4K TOUCH
15 minutes about 1 kg, per hour about 4 kg / 5.6 L

5K CREA SC
15 minutes about 1.25 kg, per hour 5 kg / 7 L
6K CREA
15 minutes about 1.5 kg, per hour 5 kg / 7 L

10K CREA
15 minutes about 2 kg, per hour 10 kg / 14 L

15K CREA
15 minutes about 3 kg, per hour 15 kg / 20 L