Imperia z-Reginette 12 mm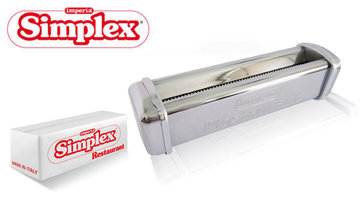 click on image for larger picture
£ 114,84
VAT included
£ 94,13
VAT free

Delivery time 3-6 days
VAT-FREE FOR ALL COUNTRIES OUTSIDE the EU. Shipments to UK Vat-free (-22%). UK customers must pay UK Vat at delivery. More info here
POWER PLUGS: all shipments to the UK and Ireland with plug adapter (BEAB approved)
WORLDWIDE WARRANTY (2 years): Best of Italy covers all costs, including transport.
Call our English hotline +39 339 8860577
Robustness and longevity are the characteristics of the Italian pasta machines Imperia, made of chrome-plated steel in fine craftsmanship. Imperia RMN 220 and RBT 220 will be the right solution for you.
Since 1932 Imperia has been known worldwide as an excellent manufacturer of pasta machines. These high quality pasta machines are used at home and in restaurant kitchens.
With the Imperia model you can produce dough surfaces in 6 thicknesses and 2 types of pasta, tagliatelle and fettuccine. With a large selection of accessories from the Imperia Z series, it is possible to prepare many types of pasta.
Reginette 12 mm stainless steel cutter for La Sfogliatrice Pasta maker series