Velma Pastaline Decorspeed Dough Sheeter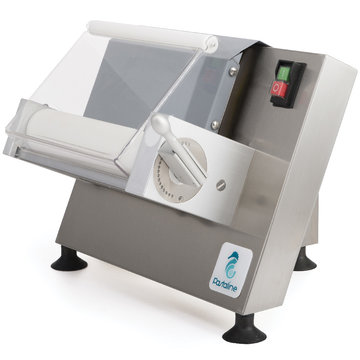 click on image for larger picture
£ 1.392,00
VAT included
£ 1.140,98
VAT free

Delivery time 2 weeks
VAT-FREE FOR ALL COUNTRIES OUTSIDE the EU. Shipments to UK Vat-free (-22%). UK customers must pay UK Vat at delivery. More info here
POWER PLUGS: all shipments to the UK and Ireland with plug adapter (BEAB approved)
WORLDWIDE WARRANTY (2 years): Best of Italy covers all costs, including transport.
Call our English hotline +39 339 8860577
Pizzerias and pastry shops have been using Velma Pastaline equipment for over 20 years. Made from stainless steel with traditional Italian craftsmanship.
The Velma Pastaline product range: dough sheeters, dough sheeters, rounders, the product range impresses with its ease of use, simple construction, low costs, dimensions and, of course, quality ...
The Giotto dough sheeters are designed for pizza, bread, cakes and flatbread, while Mini & Maxi Sfogly are particularly suitable for short pastry and puff pastry.
Decorspeed is entirely manufactured from Aisi 304 stainless steel.

The rollers, which are certified for use in foodstuff applications, are manufactured from a special high-density resin that will not deteriorate over time, even if the rollers are subjected to intensive use.

A unique feature of the Decorspeed is that it is the only machine of its kind in the world where the operator is able to easily remove the rollers for cleaning and sanitation purposes.

The conveyor slide is coated with a layer of foodstuff-grade Teflon to facilitate the processing of tacky and/or gluey products.

The hardened stainless steel roller scrapers are manufactured with a special sharpened edge that makes them suitable for use in a variety of different processing applications.

The adjustment lever is a one-piece metal construction and is ergonomic, simple to use during processing operations, strong and, above all, easy to clean.

The ease and simplicity of use is the feature that sets Decorspeed apart as an essential working companion for the chef/decorator.

Technical data:


230/240 v 50hz 0,37 Kw
roller 27 cm diam 60mm
thickness range 0-10mm
dimension 42x33x29 cm (HxLx D)
Weight 25 kg