Velma Pastafresca Pastaline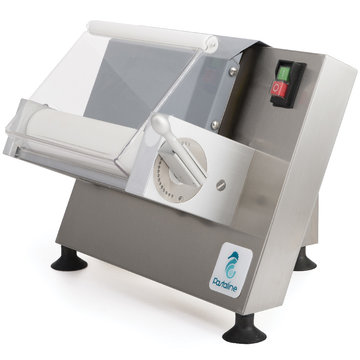 click on image for larger picture
£ 1.392,00
VAT included
£ 1.140,98
VAT free

Delivery time 2 weeks
VAT-FREE FOR ALL COUNTRIES OUTSIDE the EU. Shipments to UK Vat-free (-22%). UK customers must pay UK Vat at delivery. More info here
POWER PLUGS: all shipments to the UK and Ireland with plug adapter (BEAB approved)
WORLDWIDE WARRANTY (2 years): Best of Italy covers all costs, including transport.
Call our English hotline +39 339 8860577
Pizzerias and pastry shops have been using Velma Pastaline equipment for over 20 years. Made from stainless steel with traditional Italian craftsmanship.
The Velma Pastaline product range: dough sheeters, dough sheeters, rounders, the product range impresses with its ease of use, simple construction, low costs, dimensions and, of course, quality ...
The Giotto dough sheeters are designed for pizza, bread, cakes and flatbread, while Mini & Maxi Sfogly are particularly suitable for short pastry and puff pastry.
The Pastafresca which is entirely manufactured from Aisi 304 stainless steel, is the only dough roller with removable rollers. Made from a special acetyl resin that is certified as foodstuff grade (FDA) and thanks to their patented rifling, the rollers give the pasta the same porosity and roughness as hand-rolled pasta.
With just a few simple moves the rollers can be dismantled and reassembled for easy and thorough clearing in accordance with HACCP regulations.
The Pastafresca dough roller is equipped with a foodstuff grade Teflon-coated slide (FEP NO STICK) and a small freewheeling roller to facilitate reinsertion of the pasta. The thickness adjustment lever is easy to position at the various settings, leaving the operator free to manoeuvre the dough.
The Pastafresca is used to easily roll out egg-based pasta and cake doughs very thinly so as to produce lasagne, tagliatelle and pasta sheets for tortelli and ravioli. It is also used to quickly amalgamate coloured ingredients into the dough (tomato, turnip, spinach, squid ink, chocolate, etc.).
Technical data
230/240 v 50hz 0,37 Kw
roller 27 cm diam 60mm
thickness range 0-10mm
dimension 33x42x 29 cm (HxLx D)
Weight 25 kg