Nemox Gelato Chef 3L AUTOMATIC I-Green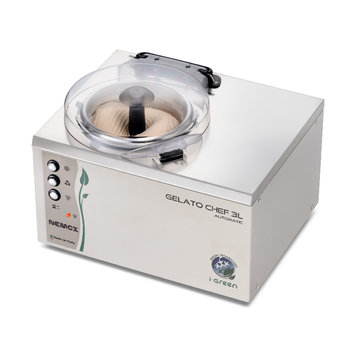 click on image for larger picture

¤ 1.580,00
VAT included
¤ 1.295,08
VAT free

Delivery time ~10 days
The Gelato 3L AUTOMATIC is a new product from NEMOX, which incorporates over 30 years of experience in the manufacture of ice cream machines. It is designed for both professional and private use.
NEMOX's software prepares the ice cream and switches to storage mode when it's ready. It monitors consistency and switches modes when consistency is ideal.
With the Gelato 3L you can make 800g to 1000g of ice cream within 25-35 minutes. Either the fixed or removable 18/10 stainless steel container can be used. The machine can be operated in automatic or manual mode.
Production per cycle
Every 30-35 minutes 0,85 kg (1,5 l.)
Production per hour
1,7 kg / 3 l.
Dimensions 405X325x300 mm
Net Weight 15,4 kg
Every 30-35 minutes 0.85 g (1,5 l.)
1,5 kg / 3l.
460x530x340 mm
18,4 kg
8024872139134

Capacity of the different Nemox models:

CHEF 3L
30-35 minutes about 850 g, per hour 1.5 kg / 3 L

CHEF 5L
20-30 minutes about 1 kg, per hour 2 kg / 3.2 L

3K TOUCH
15 minutes about 800 g, per hour 3.4 kg / 4.8 l

4K TOUCH
15 minutes about 1 kg, per hour about 4 kg / 5.6 L

5K CREA SC
15 minutes about 1.25 kg, per hour 5 kg / 7 L
6K CREA
15 minutes about 1.5 kg, per hour 5 kg / 7 L

10K CREA
15 minutes about 2 kg, per hour 10 kg / 14 L

15K CREA
15 minutes about 3 kg, per hour 15 kg / 20 L
Recipe vanilla ice cream
There's nothing like the classic taste of vanilla ice cream. It's the perfect dessert to end a meal or on a hot summer's day. Making homemade vanilla ice cream may seem daunting, but it's actually quite easy. Here is a recipe for delicious vanilla ice cream:
Ingredients: - 2 cups of heavy cream - 1 cup whole milk - 3/4 cup of granulated sugar - 1 teaspoon vanilla extract - A pinch of salt
Instructions: 1. In a medium-sized saucepan, combine the cream, whole milk, and granulated sugar. Heat over medium heat, stirring, until sugar has dissolved. 2. Remove the saucepan from the heat and stir in the vanilla extract and a pinch of salt. 3. Pour the mixture into a large bowl and chill in the fridge for at least 2 hours. 4. Once the mixture has cooled, pour into an ice cream maker and stir according to manufacturer's directions. This usually takes about 20-25 minutes. 5. Pour the finished ice cream into a freezer safe container and freeze for at least 4 hours to set before serving.
Tips - For a richer taste, you can use half and half milk instead of whole milk. - If you want to add more texture to your vanilla ice cream, you can mix in chopped nuts, chocolate chips or fruit before freezing. - You can also experiment with different flavors by replacing the vanilla extract with other extracts like almond or mint extract. Making homemade vanilla ice cream is easier than you think. With a few simple ingredients and an ice cream maker, you can whip up a delicious dessert that everyone will love. Give this recipe a try - your taste buds will thank you!


you may also be interested in following products: