Nemox Gelato 10K I-Green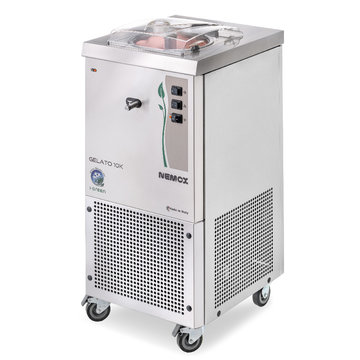 click on image for larger picture

¤ 7.490,00
VAT included
¤ 6.139,34
VAT free

Delivery time ~10 days
VAT-FREE FOR ALL COUNTRIES OUTSIDE the EU. Shipments to UK Vat-free (-22%). UK customers must pay UK Vat at delivery. More info here
POWER PLUGS: all shipments to the UK and Ireland with plug adapter (BEAB approved)
WORLDWIDE WARRANTY (2 years): Best of Italy covers all costs, including transport.
Call our English hotline +39 339 8860577
The environment thanks for the interest in these ecological ice cream machines, new generation produced in Italy by Nemox International.

We are very proud of this new creation which adopts the best solutions in favor of the environment by considerably reducing electricity consumption and at the same time improving operating efficiency.

Main features:

Produces 2 kg in about 12/15 min. 10 Kg (14 l.) Hour
Simple and intuitive control panel is
Possibility of manual or automatic use
Front discharge for cleaning
Stainless steel shovel with removable inserts
Inverter for blade speed regulation 60-130 rpm
Electric absorption 1100W

Description:

Fully automatic free-standing batch freezer!

The machine is equipped with a sophisticated software that manages its operation. In addition to normal manual operation, the user has at his disposal:

4 specific freezing programs (Classic Gelato Semi-Soft Gelato - Granita - Quick Blast Chilling).
4 Specific conservation programs that can be selected according to the different needs and characteristics of the product.

These automatic programs, in addition to ensuring the best result, make the machine completely autonomous, leaving the user free to devote himself to other activities.

Control and regulation system of the freezing motor with electronic inverter; the inverter also allows you to vary the number of revolutions of the blade (from 60 to 130 rpm) so as to fully customize the preparations.

Equipped with wheels with brakes, it moves easily where required.

Easy cleaning from the drain cock.

Shovel in AISI 304 stainless steel with adjustable scrapers. Air cooling.

The CREA series is designed to automatically produce in a short time from 1 Kg. To 2.5 Kg. Of ice cream in about 12 min.
Few operations to perform.

Pour in the ingredients
Start the car
Distribute the product obtained directly from the machine to the customer!

The rest is managed completely automatically by dedicated software, developed by NEMOX.

The software manages 4 production programs that allow you to create:

Classic ice cream (full-bodied, with an intense flavor)
Semi-Soft Ice Cream (soft, moldable in molds)
Granita (with well-defined ice crystals)
Quick blast chilling of liquids (from + 80 ° C to + 10 ° C in about 8 minutes)

The production programs can be combined with 4 conservation programs to always obtain the highest quality in the preparation and distribution of ice cream.

The software manages the density of the ice cream and automatically starts the selected conservation program, only when the density of the ice cream requires it.

The preparation obtained is stored at the ideal temperature for distribution.

As the product is distributed and its availability decreases, the ingredients are added in the machine. In about 4/5 minutes the desired quantity is restored.

With the CREA series, only the necessary quantity is produced, avoiding waste and offering an ice cream that is always fresh, creamy, at the ideal tasting temperature.

Technical features:

· The machine is equipped with a sophisticated software that manages its operation. In addition to normal manual operation, the user has at his disposal 4 specific whipping programs (Gelato

Classic - Semi-Soft Ice Cream - Granita - Quick Blast Chilling).

· 4 specific conservation programs that can be selected according to the different needs and characteristics of the product.

· These automatic programs, in addition to ensuring the best result, make the machine completely autonomous, leaving the user free to devote himself to other activities.

· Control and regulation system of the freezing motor with electronic inverter; the inverter also allows you to vary the number of revolutions of the blade (from 60 to 130 rpm) so as to fully customize the preparations.

· Equipped with wheels with brakes, it moves easily where required.

· Easy cleaning from the drain cock.

· Shovel in AISI 304 stainless steel with adjustable scrapers.

· Air cooling.


EAN: 8024872138809

Size 455x595x1055 mm

Size 455x595x1055 mm

For 12-15 'cycle about 2 kg (2.8 qt)

For now 10 kg / 14l. (15 qt)

Capacity of the different Nemox models:

CHEF 3L
30-35 minutes about 850 g, per hour 1.5 kg / 3 L

CHEF 5L
20-30 minutes about 1 kg, per hour 2 kg / 3.2 L

3K TOUCH
15 minutes about 800 g, per hour 3.4 kg / 4.8 l

4K TOUCH
15 minutes about 1 kg, per hour about 4 kg / 5.6 L

5K CREA SC
15 minutes about 1.25 kg, per hour 5 kg / 7 L

6K CREA
15 minutes about 1.5 kg, per hour 5 kg / 7 L

10K CREA
15 minutes about 2 kg, per hour 10 kg / 14 L

15K CREA
15 minutes about 3 kg, per hour 15 kg / 20 L

you may also be interested in following products: