Nemox Gelato Chef 3L AUTOMATIC I-Green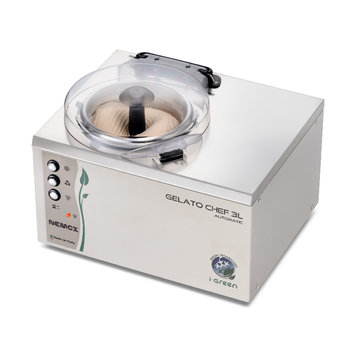 click on image for larger picture

¤ 1.580,00
VAT included
¤ 1.295,08
VAT free

Delivery time ~10 days
VAT-FREE FOR ALL COUNTRIES OUTSIDE the EU. Shipments to UK Vat-free (-22%). UK customers must pay UK Vat at delivery. More info here
POWER PLUGS: all shipments to the UK and Ireland with plug adapter (BEAB approved)
WORLDWIDE WARRANTY (2 years): Best of Italy covers all costs, including transport.
Call our English hotline +39 339 8860577
The Gelato 3L AUTOMATIC is a new product from NEMOX, which incorporates over 30 years of experience in the manufacture of ice cream machines. It is designed for both professional and private use.
NEMOX's software prepares the ice cream and switches to storage mode when it's ready. It monitors consistency and switches modes when consistency is ideal.
With the Gelato 3L you can make 800g to 1000g of ice cream within 25-35 minutes. Either the fixed or removable 18/10 stainless steel container can be used. The machine can be operated in automatic or manual mode.
Production per cycle
Every 30-35 minutes 0,85 kg (1,5 l.)
Production per hour
1,7 kg / 3 l.
Dimensions 405X325x300 mm
Net Weight 15,4 kg
Every 30-35 minutes 0.85 g (1,5 l.)
1,5 kg / 3l.
460x530x340 mm
18,4 kg
8024872139134

Capacity of the different Nemox models:

CHEF 3L
30-35 minutes about 850 g, per hour 1.5 kg / 3 L

CHEF 5L
20-30 minutes about 1 kg, per hour 2 kg / 3.2 L

3K TOUCH
15 minutes about 800 g, per hour 3.4 kg / 4.8 l

4K TOUCH
15 minutes about 1 kg, per hour about 4 kg / 5.6 L

5K CREA SC
15 minutes about 1.25 kg, per hour 5 kg / 7 L
6K CREA
15 minutes about 1.5 kg, per hour 5 kg / 7 L

10K CREA
15 minutes about 2 kg, per hour 10 kg / 14 L

15K CREA
15 minutes about 3 kg, per hour 15 kg / 20 L


you may also be interested in following products: