Musso Fiume Giardino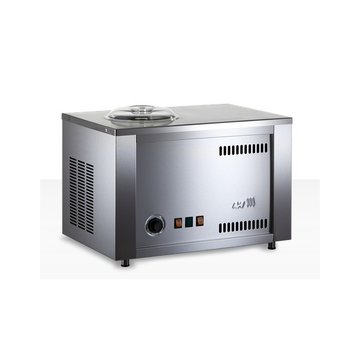 click on image for larger picture
£ 2.131,50
VAT included
£ 1.747,13
VAT free

Delivery time on request
VAT-FREE FOR ALL COUNTRIES OUTSIDE the EU. Shipments to UK Vat-free (-22%). UK customers must pay UK Vat at delivery. More info here
POWER PLUGS: all shipments to the UK and Ireland with plug adapter (BEAB approved)
WORLDWIDE WARRANTY (2 years): Best of Italy covers all costs, including transport.
Call our English hotline +39 339 8860577
The Italian manufacturer Nemox offers a wide range of professional ice machines. Nemox was founded in 1986, since then over 6,000,000 ice machines have rolled off the assembly line.
In the professional area for ice cream parlors, bars and restaurants, the Nemox Gelato series offers everything the ice cream heart desires. Such as the Nemox Gelato 6K CREA and the Nemox Gelato 5K SC, for the preparation of delicious ice cream.
The Musso Pola Chef is also suitable for smaller restaurants or bars.

* Totally self-contained professional frozen dessert maker
* Makes up to 2,5 l of homemade ice cream, sorbet, sherbet, and frozen yogurt in approximately 20 minutes
* Can produce up to 9 l per hour
* For commercial use
* Housing including bowl are brushed and polished stainless steel with a matching polished stainless steel blade
* Operation is simplified by the use of a timer which works in conjunction with a Churn and Chill switch to shut the unit off when the set time has elapsed
* Non-removable stainless steel bowl for easy cleaning and efficient cooling * Dimensions: 43cm H x 62W x 42D
* Weight: 62 kg;
* Refrigerant : r134
* Electrical: 220 V Hz 50 / 0.75 HP 560 watt
* Manufactured in Italy

Comparison of the different Musso models:

Musso Mini 4080
0,75 L 20 min / 2 L hour / compressor 200 Watt / stainless steel / 18 kg

Musso Stella 5030
1.5 kg, 20 min / 4,5 L hour / compressor 250 Watt / stainless steel / 30 kg

Musso Stella CHEF**
1.5 kg in 20 min / 4,5 L hour / compressor 300 Watt / stainless steel / 30 kg

** difference to model Stella 5030: safety device for commercial use / stainless steel

Musso Giardino
2,5 L in 20 min / 9 L hour / 570 Watt / stainless steel / 62 kg

Musso Club
identical with Fiume Giardino, different form factor / stainless steel / 65 kg

Musso Consul
12 L hour / 1200 Watt / stainless steel / 105 kg

"The Cadillacs of ice cream makers."
Los Angeles Daily News

"If you're serious about making your own ice cream, this is the machine for you."
The Wall Street Journal

"Dream Machine, which can make as much as two quarts of ice cream at a time, meant for perfectionists."
The New York Times




you may also be interested in following products: