Imperia RBT 220 electronic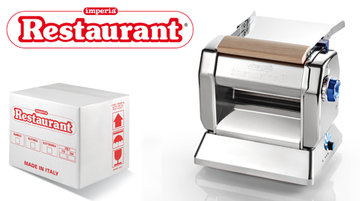 click on image for larger picture
£ 1.587,60
VAT included

delivery time 3-6 days
VAT-FREE FOR ALL COUNTRIES OUTSIDE the EU. Shipments to UK Vat-free (-22%). UK customers must pay UK Vat at delivery.
POWER PLUGS: all shipments to the UK and Ireland with plug adapter (BEAB approved).
WARRANTY (2 years): Best of Italy covers all costs, including transport.
Robustness and longevity are the characteristics of the Italian pasta machines Imperia, made of chrome-plated steel in fine craftsmanship. Imperia RMN 220 and RBT 220 will be the right solution for you.
Since 1932 Imperia has been known worldwide as an excellent manufacturer of pasta machines. These high quality pasta machines are used at home and in restaurant kitchens.
With the Imperia model you can produce dough surfaces in 6 thicknesses and 2 types of pasta, tagliatelle and fettuccine. With a large selection of accessories from the Imperia Z series, it is possible to prepare many types of pasta.
Electronic pasta machine

La Sfogliatrice series - The most popular pasta maker among chefs and conoissuers around the world.
All steel motorized (230 Volts or 110Volts) roller machine for restaurants and professionals, produces up to 12Kg. of pasta in an hour. Prepares sheets of 9 inches.
And maximum roller opening of 3/8 in. has adjusting knob with ten numbered thickness settings.
- Angel Hair 1,5 mm
- Tagliatelle 2 mm
- Linguine 4mm
- Fettuccine 6,5 mm
- Lasagnette 12 mm
A dough mixer (1Kg in five minutes).

you may also be interested in following products: