Nemox Gelato 3K TOUCH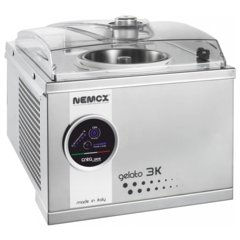 click on image for larger picture
£ 2.244
coupon
please enter it at checkout
The ice machine manufacturer Nemox from Italy is known worldwide for its quality. Professional or household use, Nemox is the right place for you. Nemox was founded in 1986, since then over 6,000,000 ice machines have rolled off the assembly line.
The series Nemox Gelatopro 1700 and Nemox Gelato NXT1 are particularly popular for ice cream in households. In the professional area for ice cream parlors, bars and restaurants, the Nemox Gelato series offers everything the ice cream heart desires. Making ice cream yourself made easy.
With the Nemox Gelato 3K TOUCH you can prepare gelato, ice cream and sorbet on demand!
Ideal for small restaurants and Cafes. The customer selects their favourite flavour and in a few minutes it will be delivered straight to the table. Fresh, just churned and of the highest quality!
Inner bowl is AISI 304 stainless steel.
Continuous operating capability allows rapid production of several different flavours.
The machine body is entirely made of stainless steel, like the mixer blade, featuring replaceable inserts.
Air cooling. Mechanical 30 minute timer.
Makes 800 g, -1.2 every 15 minutes!
3kg - 5 liters or 5 qt per hour!
TECHNICAL SPECIFICATIONS:
220-240V 50Hz/1 - 350W
Air cooling: yes
AISI 304 stainless steel fixed bowl 1,7 l. - 1,8 qt
Max Ingredients qty 0,8 Kg-0,75 l.- .8 qt
Max Production/Hour 3 Kg - 4,4 l. - 5 qt
Preparation time 15'
Mixing motor - Induction with thermostat: yes
Thermic safety - Compressor and mixing motor: yes
Reduction 63 rpm
Timer 30'
Variable mixing speed
Wheels with brakes (RF) or adjustable feet (PR) PR
Horizontal extraction: no
Electronic control with inverter: no
Stainless steel body: yes
Width cm 34 - in 13,40
Depth cm 40 - in 15,75
Height cm 25 - in 9,84
Net Weight 19 Kg - 42 lb
Shipping Carton cm. 44x52x35
in 17.3x20.5x13.8
kg. 23 - lb 51

Accessories included:

Ice cream spatula: yes •
Paddle inserts 1 set